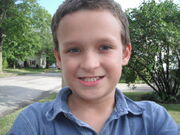 Eric is one of the main Characters Of The Show Dylan Kart.  He is potrayed By
Dylan Troy
Eric"Jarett"Lange
[[|1x5px]]
Eric's Portrayer Dylan Troy

Born

October 18 1998 (age 15)

Freinds

Grace Pena Stevie Parklie Lois Falee Peter Russo

Pets

Tilly

First Apperance

Last Apperance

Love Intrestes

Lois(possible crush) Gracie(Possible crush)
Personality
Edit
Eric is a nice guy,who's always there for his friends. He hangs with Stevie and Gracie the most. He is blind to the fact that Gracie likes him. He likes to try new things,Such as fashion ( See Gimmicks ). Even if he's nice. He does not like characters such as Pool Party Boys. In Season 2,he dates Gracie,and gets closer to Peter,while Stevie is attached with Lois.
Awards
Year                                   Nomination                              Win/Lose
2012                            Dylan Kart Wikia Show                           Win
2013                          Storia Kids Choice Awards                      Nominated
Ad blocker interference detected!
Wikia is a free-to-use site that makes money from advertising. We have a modified experience for viewers using ad blockers

Wikia is not accessible if you've made further modifications. Remove the custom ad blocker rule(s) and the page will load as expected.